From Concept to Book Workshop: Cynthia Miller and Stephen Ryan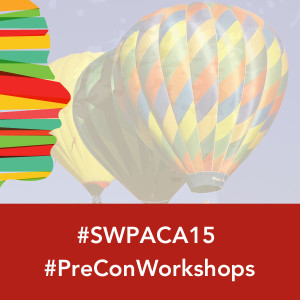 UPDATE (2/3/15): This workshop is now full.
Wondering how to turn that terrific idea, conference paper, or article into a book-length publication?  This workshop, conducted by author and editor Cynthia Miller and Stephen Ryan, Senior Editor for Rowman and Littlefield, will focus on practical suggestions for moving from "I've got a great idea" to a book proposal, and beyond.  We'll talk about how to recognize the difference between an idea suited to a chapter and one that will carry a whole volume, how to add breadth and dimension to existing article-length work, and the nuts-and-bolts of how to draft a proposal to submit to a publisher.  Feel free to bring material from current projects to discuss and work on!
(Limited to the first 15 registrants)
Registration is open. To sign up for a workshop, please email Lynnea Chapman King at lchapmanking@southwestpca.org.
View the full lineup of pre-conference workshops: http://southwestpca.org/front-page-news/announcing-2015-pre-conference-workshops/