Writing the Cultural Landscape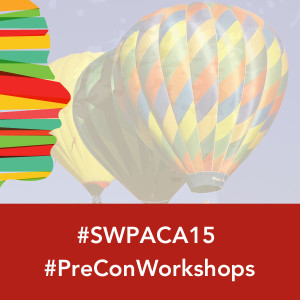 Led by 2012 New Mexico Poet Laureate Levi Romero, Writing the Cultural Landscape is an informal writing workshop that will provide the opportunity for conference attendees to immerse themselves in Albuquerque's cultural environment. Beyond the beauty of the city's mountains, sunsets, architecture, and the Río Grande, is a landscape vibrant with people, culture, stories, and a history that spills out of its ancient past right into the present-day. Students will engage in group discussion, writing prompts, and field exercises that will inspire them to experience and write the cultural landscape stitched across Albuquerque's urban fabric. Plazas, mercados, street- life, cultural centers/galleries, and informal community gathering places will provide a backdrop for the writing material. Participants will have the opportunity to present a piece from their field-writing exercises at a subsequent session on Saturday.
Registration is open. To sign up for a workshop, please email Lynnea Chapman King at lchapmanking@southwestpca.org.