Pre-Con Workshop: Making the Makerspace: A Look into the Creation of the iSpace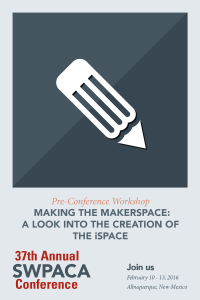 Participants will explore the technologies, stakeholders, and politics inherent to the creation of a makerspace. The University of Arizona's makerspace, iSpace, will serve as a frame to generate discussions and ideas. Participants will be engaging in mini maker projects throughout the workshop. The goal is for participants to leave with a working conceptualization of a makerspace specific to their locale. A list of resources will be provided to participants interested in further investigation.
The workshop will be lead by Marijel Maggie Melo, Jennifer Nichols, Brandon Minaya, and Antonnet Johnson.
Wednesday, February 10, 2015 8:30-11:30 am.
This workshop is free of charge, but requires registration.
Please note that registering for the workshop is separate from conference registration, which may be completed at http://register.southwestpca.org.
To enroll in the workshop, please email a 100-250 word statement of interest to Maggie Melo (marijelmelo@email.arizona.edu) and the Area Research Coordinator, Jennifer deWinter (jdewinter@wpi.edu).