#SWPACA18 Breaking Bad Tour Registration Now Open!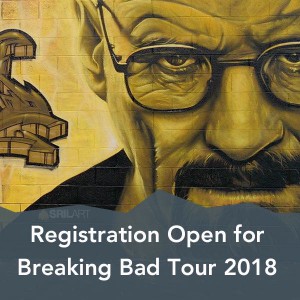 Join us on this guided driving tour of iconic "Breaking Bad" and "Better Call Saul" filming sites in Albuquerque. The expected duration of the tour is: 3-3.5 hours, weather permitting. Space is limited, so pre-registration will be required.
Saturday, 2/10/2018 at 1:15pm. Registered participants will meet at the conference Registration Desk.
This guided tour will be conducted with multiple carloads of participants, communicating through portable CB radios provided by the tour leader. The amount of participants will be determined by how many people with cars sign up and how many people can fit in those cars. Since we rely on volunteer drivers, submitting this form does not indicate a guarantee of participation
Register Now