Submission Period Extension to November 15, 2013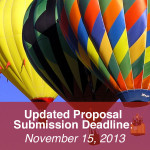 Due to the overwhelming response today, with our database working overtime to handle the flood of submissions, the SWPACA executive team has decided to extend the submission period to November 15, 2013.
This will give those who have not decided to attend this year's conference a chance to submit a paper/panel proposal!
Submit today! Remember, all roads lead to ABQ, NM in February … We Will Be There, Will You?