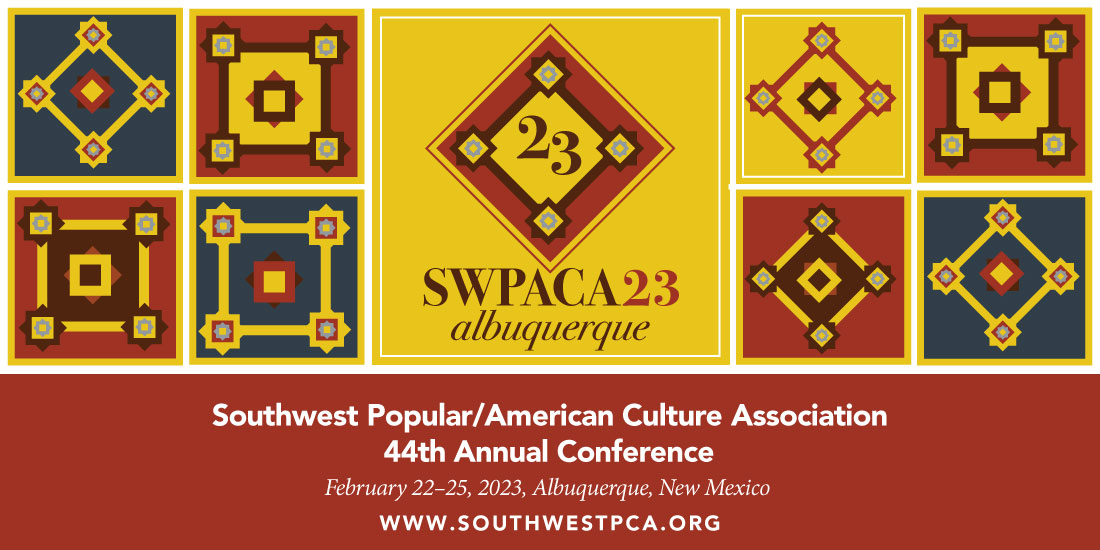 44th Annual Southwest Popular/American Culture Association Conference
February 22-25, 2023, Albuquerque, New Mexico.
Registration:
All conference attendees, whether presenting or not, are expected to register for the conference. Please note, if you plan on presenting, you should register after you find out that your proposed presentation has been accepted.
Propose a Presentation
Send all conference registration and payment inquiries to support@southwestpca.org.
For this year's conference, we will use the following rates for presenters and attendees, as follows (dates and rates below will be updated soon):

Early Bird Registration
Aug. 1, 2022 -
Dec. 15, 2022
Academic Professional / Independent Scholar: $175
Graduate/Undergraduate Student: $165
Retired/Non-Presenting Guest: $100
Regular Registration
Dec. 16, 2022 -
Jan. 10, 2023
Academic Professional / Independent Scholar: $195
Graduate/Undergraduate Student: $185
Retired/Non-Presenting Guest: $115
Late Registration
Jan 11, 2023 -
Feb. 26, 2023
Academic Professional / Independent Scholar: $210
Graduate/Undergraduate Student: $200
Retired/Non-Presenting Guest: $125
Refund Information:
Refund requests must be submitted in writing and will be granted on the following schedule:
100% refund if requested by Jan. 10, 2023
75% refund if requested by Jan. 17, 2023
50% refund if requested by Jan. 24, 2023
25% refund if requested by Jan. 31, 2023
0% refund Feb. 1, 2023 and after