Pre-Con Workshop: Pop Culture & Pedagogy: Using Google Hangouts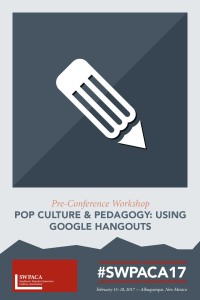 As educators, we struggle with encouraging effective collaboration between our students, who tend to push back against these activities as too time consuming, too unfair, and lacking in accountability. This is particular true in an online environment as students who choose this educational path frequently have other commitments that preclude their attendance at brick-and-mortar classes. Why would they want to collaborate with others when they don't have time to attend a synchronous class?
Well, I say it's time to push back!  Google has transform our society in remarkably substantive ways: the way we do research, the way we collaborate with fellow educators, the way we network socially with our peers, even the we navigate to our favorite restaurants.  In short, Google has become so intrinsic to our popular culture, it's hard to imagine living without it; it's even become a verb in the Oxford English Dictionary!  When was the last time anyone used Yahoo or Alta Vista or Webcrawler to surf the web? Anyone?
Through the use of Google, especially their Hangouts app, you can increase student participation, reduce resistance and improve accountability.  This seminar will take a best practices and hands-on approach towards this powerful learning tool. You'll be creating a Gmail account (if you don't have one already), getting online with Hangouts, and making use of its amazing functionality to collaborate with other attendees. In the process, I will show you how you can use Hangouts to engage students in the study of popular culture and in turn, become more engaged with their digital native world.
So bring your smart device and/or laptop, get those creative juices flowing and prepare yourself for an enlightening and entertaining introduction to the powers of Google! It's not just a search engine anymore!
Facilitator: Kurt Depner 
Wednesday, February 15, 2017 8:30-11:30 am.
Limited to 25 participants; $35 registration fee. You will be sent an invoice at the email address you provide on this form in January for the workshop fee. Payment may be made at that timeor at the time of the workshop.
Please note that registering for the workshop is separate from conference registration, which may be completed at http://register.southwestpca.org. Your spot in the workshop is not guaranteed until conference registration is paid.