Pre-Con Workshop: Pop Culture Production: Create Your Own Zine!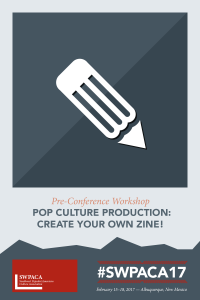 Zines have a very special place in American popular culture as a DIY response to mainstream magazines. They are most often associated with the Riot Grrrl Movement of the early 1990s, and "talked back" to important social issues like sexism, racism, classism, and ableism. They also challenge traditional methods of content creation, presentation, and distribution. After a brief talk about the history and power of zines, participants will get the chance to create their own zine! Anyone can make one, and they can be about anything. Passionate about a particular cause? Got something to get off your chest? Just want to relax before the conference begins? Bring yourself and your ideas, and we'll supply the rest!
Wednesday, February 15, 2017 8:30-11:30 am.
Limited to 12 participants; $35 registration fee. You will be sent an invoice at the email address you provide on this form in January for the workshop fee. Payment may be made at that timeor at the time of the workshop.
Please note that registering for the workshop is separate from conference registration, which may be completed at http://register.southwestpca.org. Your spot in the workshop is not guaranteed until conference registration is paid.