Virtual Conference Opportunity: Join us for SWPACA Summer Salon!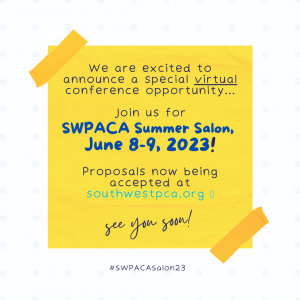 We are thrilled to announce our first ever SWPACA Summer Salon, to be held virtually from June 8-9, 2023!
Proposals are now being accepted for all of our nearly 70 subject areas! To submit your proposal, head to the conference database at https://register.southwestpca.org/southwestpca.
Please be aware that presentation slots for the virtual conference are limited, and registering in advance does not guarantee acceptance of your proposal. Acceptance emails will be sent by the end of April.
For general questions about the conference, visit our FAQs or contact us at support@southwestpca.org.
We look forward to seeing you in June!