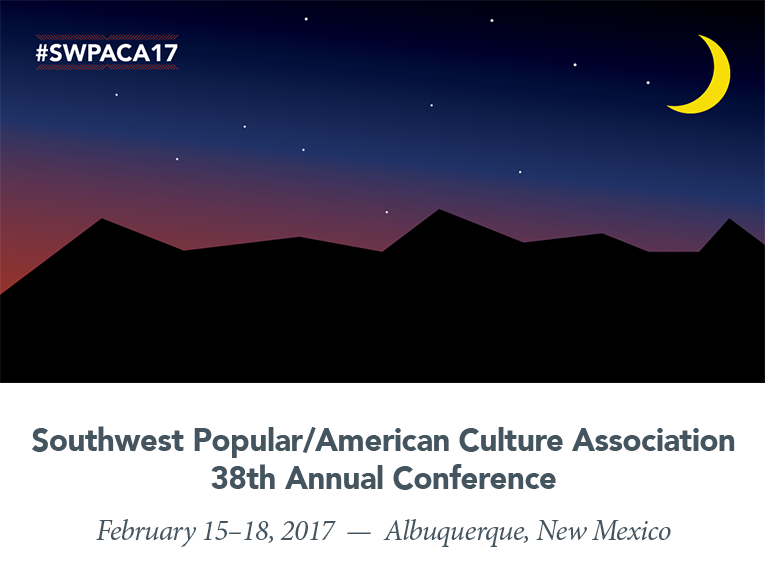 We will begin accepting paper proposals August 1, 2016! Continue to check this page for updates!
SWPACA Subject Area List:
Film, Television, Music, and Visual Media | Historic and Contemporary Cultures | Identities and Cultures | Language and Literature | Science Fiction and Fantasy | Teaching and the Profession | Eclectica

Film, Television, Music, and Visual Media
Adaptation: Literature, Film, and CultureAdvertising and Consumer Culture
Alfred Hitchcock
The American West: Film and Literature
Breaking Bad / Better Call Saul
Computer Culture
Digital Humanities
Film and History
Film Studies
Film Theory and Aesthetics
Game Studies, Culture, Play, and Practice
Grateful Dead
Horror (Literary and Cinematic)
James Bond, Espionage, and Eurospy
Music: Traditional, Political, Popular
Mystery Science Theater and the Culture of Riffing
Rap and Hip-Hop Culture
Reality TV
Television
Theatre and Performance Studies
Visual Arts

Historic and Contemporary Cultures
American Studies and American HistoryBeats, Counterculture, and Hipsters
Classical Representations in Popular Culture
Crime and Culture
Fashion, Style, Appearance, & Identity
Food and Culture
The Geek and Popular Culture
Libraries, Archives, Museums, & Popular Culture
Material Culture and the Built Environment
Mothers, Motherhood, and Mothering in Popular Culture
Motor Culture and the Road
Neo-Victorianism and Steampunk
Philosophy and Popular Culture
Politics
Religion
Science, Technology, and Culture
Shakespeare in Popular Culture
Stardom and Fandom
War and Culture
Identities and Cultures
African American / Black Studies

Arab Culture in the U.S.
Asian Popular Culture / The Asian American Experience
Chicano/a Literature, Film, and Culture
Disability Studies
Native American/Indigenous Studies
Women, Gender, and Sexuality
Language and Literature
Biography, Autobiography, Memoir, and Personal Narrative
Captivity Narratives
Children's / Young Adult Literature and Culture
Cormac McCarthy
Creative Writing (Poetry, Fiction)
Eco-Criticism and the Environment
European Popular Culture and Literature
Folklore Studies
Graphic Novels, Comics, and Popular Culture
Linguistics
Literature (General)
Mystery / Detective Fiction
Myth and Fairy Tales
Poetry and Poetics (Critical)
Rhetoric and Technical Communication

Science Fiction and Fantasy
Follow the Science Fiction and Fantasy area on Facebook at www.facebook.com/swtxsff and on Twitter @swtxsffchairs
Apocalypse, Dystopia, and Disaster in Culture
British Sci-Fi / Fantasy Television
A Game of Thrones
Harry Potter Studies
Science Fiction and Fantasy – General
Science Fiction and Fantasy – Literature
Supernatural (TV series)
The Works of Joss Whedon
Zombie Culture

Teaching and the Profession
Pedagogy and Popular Culture
Undergraduate Presentations

Eclectica
Eclectica: For Topics with No Other Home