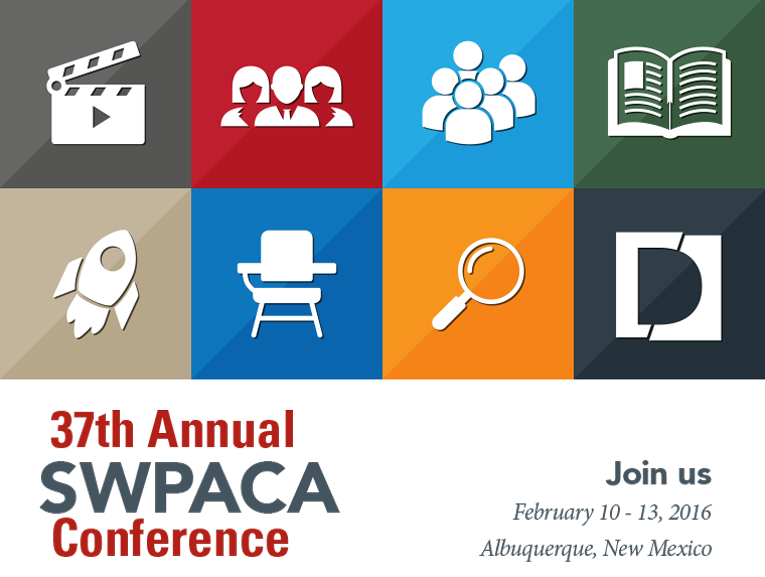 A full list of the conference's subject areas is below. Each area has its own Call for Papers. Please click the name of each area to see its individual CFP.
If you have questions about a specific area, please contact its Area Chair. If you have questions about the proposal process, please contact the Area Development and Awards Coordinator, Kelli Shapiro, PhD, at kshapiro@southwestpca.org.
The proposal deadline is November 1, 2015.
UPDATE: The deadline to submit your proposals has been extended to November 15, 2015! 
We are now accepting proposal submissions at conference2016.southwestpca.org.
SWPACA Subject Area List:
Film, Television, Music, and Visual Media | Historic and Contemporary Cultures | Identities and Cultures | Language and Literature | Science Fiction and Fantasy | Teaching and the Profession | Eclectica

Film, Television, Music, and Visual Media
Adaptation: Literature, Film, and Culture
Chuck Hamilton, PhD, Northeast Texas Community College, English, chamilton@ntcc.edu
Advertising and Consumer Culture
Patricia Boyd, PhD, Arizona State University, English, Patricia.Boyd@asu.edu
Alfred Hitchcock
Michael Howarth, PhD, Missouri Southern State University, English, Howarth-M@mssu.edu
The American West: Film and Literature
Larry Van Meter, PhD, Blinn College, English, larry.vanmeter@gmail.com
Breaking Bad / Better Call Saul
Nick Gerlich, PhD, West Texas A&M University, Marketing, ngerlich@wtamu.edu
Computer Culture
Natasha Chuk, PhD, School of Visual Arts, Art History, natychuk@gmail.com
Digital Humanities
David D. Oberhelman, PhD, Oklahoma State University Library, d.oberhelman@okstate.edu, http://dhswpaca.wordpress.com
Film and History
Brad Duren, PhD, Oklahoma Panhandle State University, Behavioral & Social Sciences, duren@opsu.edu
Film Studies
Allen Redmon, PhD, Texas A&M University – Central Texas, English, allen.redmon@ct.tamus.edu
Film Theory and Aesthetics
Jennifer L. Jenkins, PhD, University of Arizona, English, jenkinsj@email.arizona.edu
Game Studies, Culture, Play, and Practice
Judd Ruggill, PhD, Arizona State University, Communication, jruggill@asu.edu
Grateful Dead
Nicholas Meriwether, University of California – Santa Cruz, McHenry Library, nicholas@ucsc.edu
Horror (Literary and Cinematic)
Steffen Hantke, PhD, Sogang University, English, steffenhantke@gmail.com
James Bond, Espionage, and Eurospy
Michele Brittany, Independent Scholar, spyfi.superspies@gmail.com
Music: Traditional, Political, Popular
Cody Smith, PhD, College of the Mainland, History, codyhsmith@gmail.com
Mystery Science Theater and the Culture of Riffing
Robert G. Weiner, Texas Tech University Library, rweiner5@sbcglobal.net
Rap and Hip-Hop Culture
Robert Tinajero, PhD, Paul Quinn College, English, rtinajero@pqc.edu
Reality TV
Dalyn Luedtke, PhD, Norwich University, English and Communications, dalyn@norwich.edu
Television
Monica Ganas, PhD, Azusa Pacific University, Theater, Mganas@apu.edu
Theatre and Performance Studies
Lynn Sally, PhD, Metropolitan College of New York, American Urban Studies, lsally@mcny.edu
Visual Arts
Nancy Kay, PhD, Merrimack College, Art History,kayn@merrimack.edu

Historic and Contemporary Cultures
American Studies and American History
Deborah Marinski, PhD, Ohio University – Southern Campus, History, marinski@ohio.edu
Beats, Counterculture, and Hipsters
Christopher Carmona, PhD, University of Texas Rio Grande Valley, Creative Writing, christophercarmona@icloud.com
Classical Representations in Popular Culture
Benjamin Haller, PhD, Virginia Wesleyan College, Classics,bhaller@vwc.edu, https://www.facebook.com/classical.representations
Crime and Culture
Darrell Hamlin, PhD, Fort Hays State University, Justice Studies, dahamlin@fhsu.edu
Fashion, Style, Appearance, & Identity
Carla Perez, PhD, University of the Incarnate Word, Fashion Management, perezc@uiwtx.edu
Food and Culture
Laura Anh Williams, PhD, New Mexico State University, Women's Studies, lawill@nmsu.edu
The Geek and Popular Culture
Kathryn Lane, PhD, Northwest Oklahoma State University, English, kelane@nwosu.edu
Libraries, Archives, Museums, & Popular Culture
Janet Brennan Croft, Rutgers University Library, jbc134@rulmail.rutgers.edu
Material Culture and the Built Environment
Lisa Schrenk, PhD, University of Arizona, Architectural History, lschrenk@email.arizona.edu
Mothers, Motherhood, and Mothering in Popular Culture
Anna CohenMiller, PhD, Nazerbayev University, Education, anna@cohenmiller.com
Motor Culture and the Road
Stacy Rusnak, PhD, Georgia Gwinnett College, Film, srusnak@ggc.edu
Neo-Victorianism and Steampunk
Gordon Marshall, PhD, Istanbul Aydin University, English, gordmarshall@gmail.com
Philosophy and Popular Culture
Burcu Gurkan, PhD, Istanbul Sehir University, Foreign Languages, philswpca@gmail.com
Politics
Darrell Hamlin, PhD, Fort Hays State University, Justice Studies, dahamlin@fhsu.edu
Religion
Warren Kay, PhD, Merrimack College, Religious & Theological Studies, kayw@merrimack.edu
Science, Technology, and Culture
Warren Kay, PhD, Merrimack College, Religious & Theological Studies, kayw@merrimack.edu
Shakespeare in Popular Culture
Jessica Maerz, PhD, University of Arizona, Theatre Studies, jmaerz@email.arizona.edu
Stardom and Fandom
Lynn Zubernis, PhD, West Chester University of Pennsylvania, Counselor Education, lzubernis@wcupa.edu
War and Culture
Steffen Hantke, PhD, Sogang University, English, steffenhantke@gmail.com

Identities and Cultures
African American / Black Studies
Debbie Olson, PhD, University of Texas at Arlington, dolson@uta.edu
Arab Culture in the U.S.
Tyler Blake, PhD, MidAmerica Nazarene University, English, jtblake2@mnu.edu
Asian Popular Culture / The Asian American Experience
Elaine Cho, PhD, Eastfield College, English, elainecho@dcccd.edu
Chicano/a Literature, Film, and Culture
Jeanette Sanchez, University of Washington, Drama, jeannie8@u.washington.edu
Disability Studies
Lexey Bartlett, PhD, Fort Hays State University, English, labartlett@fhsu.edu
Native American/Indigenous Studies
Margaret Vaughan, PhD, Metropolitan State University, Ethnic Studies, margaret.vaughan@metrostate.edu
Women, Gender, and Sexuality
Pat Tyrer, PhD, West Texas A&M University, English and Modern Languages, ptyrer@wtamu.edu

Language and Literature
Biography, Autobiography, Memoir, and Personal Narrative
Melinda McBee, PhD, Independent Scholar, mcbee58@verizon.net
Captivity Narratives
B. Mark Allen, PhD, South Texas College, History and Philosophy, bmallen@southtexascollege.edu
Children's / Young Adult Literature and Culture
Diana Dominguez, PhD, University of Texas Rio Grande Valley, Literatures and Cultural Studies, gypsyscholar60@rgv.rr.com
Assistant Area Chair / SWPACA Leadership Institute Fellow: Kathleen Lacey, University of Nebraska – Lincoln, klacey@southwestpca.org
Cormac McCarthy
Katherine Sugg, PhD, Central Connecticut State University, English, suggkae@ccsu.edu
Creative Writing (Poetry, Fiction)
Jerry Bradley, PhD, Lamar University, English, jerry.bradley@lamar.edu
Eco-Criticism and the Environment
Jeremy Elliott, PhD, Abilene Christian University, Language and Literature, jke10a@acu.edu
European Popular Culture and Literature
M. Catherine Jonet, PhD, New Mexico State University, Women's Studies, mjonet@nmsu.edu
Folklore Studies
Helen McCourt, PhD, Collin College, English, helen.mccourt1@gmail.com
Graphic Novels, Comics, and Popular Culture
Robert G. Weiner, Texas Tech University Library, rweiner5@sbcglobal.net
Linguistics
Maria Eugenia Trillo, PhD, Independent Scholar, metswpca2015@gmail.com
Literature (General)
Samantha Lay, PhD, University of West Alabama, English, slay@uwa.edu
Mystery / Detective Fiction
Lexey Bartlett, PhD, Fort Hays State University, English, labartlett@fhsu.edu
Myth and Fairy Tales
Sheila Dooley, PhD, University of Texas Rio Grande Valley, Writing and Language Studies, sheila.dooley@utrgv.edu
Poetry and Poetics (Critical)
Scarlett Higgins, PhD, University of New Mexico, English, shiggins@unm.edu
Rhetoric and Technical Communication
Robert Galin, University of New Mexico – Gallup, English and Communications, rgalin@unm.edu


Science Fiction and Fantasy
Follow the Science Fiction and Fantasy area on Facebook at www.facebook.com/swtxsff and on Twitter @swtxsffchairs
Apocalypse, Dystopia, and Disaster in Culture
Shane Trayers, PhD, Middle Georgia State College – Macon Campus, English, trayers.shane@gmail.com
British Sci-Fi / Fantasy Television
Erin Giannini, PhD, Independent Scholar, egiannini37@gmail.com
A Game of Thrones
Tamy Burnett, PhD, University of Nebraska – Lincoln, Honors Program, tburnett@southwestpca.org
Harry Potter Studies
Christopher Bell, PhD, University of Colorado – Colorado Springs, Communication, cbell3@uccs.edu
Science Fiction and Fantasy – General
Rikk Mulligan, PhD, Association of Research Libraries, rikk.mulligan@gmail.com
Science Fiction and Fantasy – Literature
Tamy Burnett, PhD, University of Nebraska – Lincoln, Honors Program, tburnett@southwestpca.org
Supernatural (TV series)
Tamy Burnett, PhD, University of Nebraska – Lincoln, Honors Program, tburnett@southwestpca.org
The Works of Joss Whedon
Susan Fanetti, PhD, California State University – Sacramento, English, sfanetti@csus.edu
Zombie Culture
Robert G. Weiner, Texas Tech University Library, rweiner5@sbcglobal.net


Teaching and the Profession
Pedagogy and Popular Culture
Kurt Depner, New Mexico State University – Dona Ana, English, kudepner@nmsu.edu
Facebook Group: SWPACA Pedagogy & Popular Culture
Twitter: Pedagogy&PopCulture ‏@SWPCAPedagogy
Undergraduate Presentations
Note: All individual proposals by undergrads must be submitted here
Raymond A. Hall, PhD, Central Washington University, Africana and Black Studies, hallray@cwu.edu


Eclectica
Eclectica: For Topics with No Other Home
Jeff Clayton, PhD, Lee College, English, jclayton@lee.edu