#SWPACA2020 Award Winners
The Southwest Popular/American Culture Association is pleased to announce the award winners for #SWPACA2020. Their achievements in Popular and American Culture studies are exemplary of their fields. Congratulations to all.

Heldrich-Dvorak Undergraduate Travel Awards
Luka Dowell
University of California, Santa Cruz
"De-'Cypher'-ing the Matrix: A Marxist Critique of the Manosphere and Red Pill Ideology"
Nehal Kamel
University of Texas at Austin
"The After Effect: Understanding Gender Roles and Expectations through Harry Styles Fanfiction"
Maria Diaz
University of Colorado Denver
"On Paper: The Challenges of Prisoner Re-Entry as Viewed Through the Reality TV Series Love After Lockup"
Heldrich-Dvorak Graduate Travel Awards
Kyesha Jennings
Indiana University of Pennsylvania
"City Girls, Hot Girls, and the Re-imagining of Black Women in Hip-Hop and Digital Spaces"
Lia Schuermann
Texas Women's University
"Expanding the Boundaries of Trauma Theory and Digital Game Narratives: How Video Game Narratives Can Be Trauma Narratives in Sea of Solitude"
Kathryn Harlan-Gran
Cornell University
"Letting Go Ghosts of Destruction: The Generative Potential of the Queer and the Sacred in Craig Womack's Drowning in Fire"
Jodi Meyer
Texas Women's University
"'Weren't You Someone's Son?': Americana and Death in Cartoon Network's Over the Garden Wall"
Yasheng She
University of California, Santa Cruz
"Materialized Trauma and Masked Desire"
Albuquerque Convention & Visitor's Bureau Travel Award
Divana Olivas
University of Southern California
"Coyota Epicureanism: Food Consciousness and Land-Based Knowledges in Anita Rodriguez's Coyota in the Kitchen: A Memoir of New and Old Mexico"
Science Fiction & Fantasy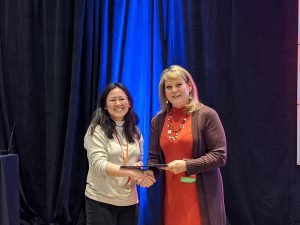 Judge: Erin Giannini & Shane Trayers
Presenting the Award: Kathleen Lacey
WINNER: "'The Nightmare Is Over': Zombinol and the Geopolitics of Wes Craven's The Serpent and the Rainbow," Charline Jao, Cornell University
STATEMENT: The judges were particularly impressed with Charline Jao's take on Wes Craven's 1988 film, The Serpent and the Rainbow due to its clear, concise writing and an intriguing take on the film as not only dealing with the colonialism inherent in many zombie texts, but viewing it as a film that speaks directly to the geopolitics of the Cold War.
Historic & Contemporary Cultures
Judges: Stacy Rusnak & Jennifer Jenkins
Presenting the Award: Kathleen Lacey
WINNER: "Charting the 'Third Way': Feminist Reimaginations of Patriarchal Religious Structures in The Chilling Adventures of Sabrina," Zoe Sprott, University of Hawaii, Manoa
STATEMENT: This well-researched and theorized essay synthesizes the history of witchcraft iterations in American (U.S.) literatures and cultures as expressions of feminist resistance. The demonstration case is the Sabrina re-boot, Chilling Adventures, although Sprott also references Luther and Good Omens. The essay provides a workmanlike analysis of popular culture with solid intellectual grounding.