#SWPACA2020 Pre-Con Workshops
1002  Pre-Conference Workshop: Yikes! I'm Teaching Creative Writing!: Creative Writing Pedagogy and Theory

Wed, 02/19/2020, 8:15 am  –  11:15 am, Enchantment C
Moderator: Pat Tyrer, West Texas A&M University
Workshop participants are invited to actively participate in discussion and practice of current trends in creative-writing pedagogy including theories of composition. In addition, members will participate in a poetry writing workshop utilizing current methodology both as instructors and as students. This is a hands-on, interactive, instructive workshop. Bring writing materials, an open mind, and a sense-of-humor.
Workshop Leader: Pat Tyrer is a Professor of English at West Texas A&M University in Canyon, Texas, who teaches creative writing. She has published two books of poetry and numerous individual poems, short stories, and essays. Her work has appeared in "Readers' Digest," "Forms Quarterly," "Pear Tree Press," "The Houston Literary Review," and "Bewildering Stories," among others.
---
1004  Pre-Conference Workshop: Alternative Facts, Fake News and the Politics of Hate: A Best Practices PreSeminar on Teaching Data Driven Rhetoric and the Dangers of Logical Fallacies in a Post Fact World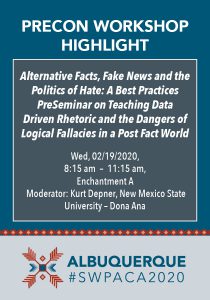 Wed, 02/19/2020, 8:15 am  –  11:15 am, Enchantment A
Moderator: Kurt Depner, New Mexico State University – Dona Ana
Since 2016, popular discourse has devolved into a panoply of ad hominem and straw man arguments, unwarranted generalizations, false dichotomies & equivalences, bandwagon and authority appeals, slippery slopes, red herrings and gaslighting. Our world is shaped by this rhetoric: lies become truth, belief becomes fact, and reality becomes fake news. The dangers of this are all too evident in today's world, where the greatest contributors of this rhetoric are achieving unprecedented political power around the globe, from Hungary to Turkey, Russia to Japan, Brazil to the United States. As educators, it becomes increasingly difficult to counter these voices but try we must. Critical thinking and a commitment to data driven rhetoric in the face of seemingly endless waves of logical fallacies make the need all the more apparent. So what have you done to emphasize the importance of countering this rhetoric of hate?
In this workshop, we will discuss best practices that we have implemented to make this controversial subject matter more approachable to learners.If you are interested in participating in this workshop, we ask that you bring an assignment that you use or would like to use in a course that utilizes popular culture as a means of teaching about logical fallacies and the harm they cause to current popular discourse. We will also brainstorm additional ways in which you can apply techniques for overcoming the onslaught of harmful rhetoric that we experience today in our post fact world.