SWPACA CFP Deadline Extension due to Technical Issues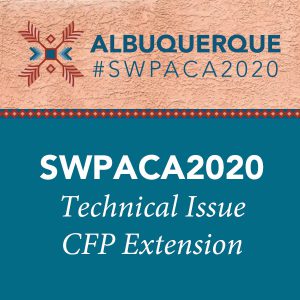 Dear SWPACA supporters,
Due to some technical difficulties with our website today, we are extending our submission deadline to Nov. 24, 2019. We apologize for any errors you may have experienced. We believe the issues are resolved, but please contact us if you encounter any future technical challenges so we may assist you.
The SWPACA conference will be held Feb 19-22, 2020 in Albuquerque, New Mexico. We are delighted to welcome special guest Rob Thomas, creator of cult television hits Veronica Mars and iZombie.
We welcome proposals on any topic related to popular culture and/or American culture. Full CFP details here: http://southwestpca.org/conference/call-for-papers/
Submit proposals and register here: https://register.southwestpca.org/southwestpca
More details: http://southwestpca.org/
See you in Albuquerque!
The SWPACA Exec Team