#FeatureFriday: Meet the Fellows! Ashley Johnson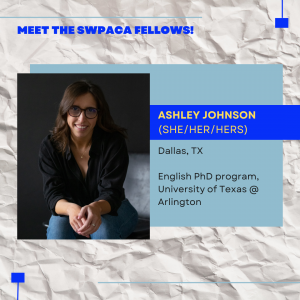 👩 Ashley Johnson (she/her/hers)
📍 Dallas, Texas
📚 English PhD program, University of Texas, Arlington
❓ What are your research interests?
My research interests include writing for children (especially middle grade literature), adaptation theory, Arthurian Legend, lit pedagogy, representations of diversity in literature, and the cultivation of identity through storytelling.
❓ What got you interested in pop/American culture studies?
When I got to college, I took a "Bible as Literature" class in which my professor introduced the Christ Figure through an analysis of Superman (1978) before discussing Scorsese's The Last Temptation of Christ (1988) and Simon Birch (1998). I had never heard anyone talk about films in the same way that they talked about literature and I was hooked.
❓ What are your goals as a SWPACA Leadership Institute Fellow?
I took a film studies course the next semester and viewed George Méliès' A Trip to the Moon/Le Voyage dans la Lune (1902), Citizen Kane (1941), Christopher Nolan's The Prestige (2006), and Wes Anderson's Moonrise Kingdom (2012) for the first time. We talked about film design and aesthetics, as well as storytelling modes and cultural connections. As I continued my education, I remained interested in film studies, but branched out into explorations of sound studies, Young Adult literature, and digital humanities.
❓ What is your current pop culture passion/obsession?
As co-chair for the Children's/YA Culture area for the summer salon and the upcoming conference, I have gained experience reviewing proposals and organizing and moderating panels. I am looking forward to hearing the presentations at our 2024 conference!
My goals as a fellow include gaining more experience in general conference event planning and working with Dialogue.
📢 Join our next class of Schoenecke Fellows! Applications are now being accepted through 12/1/23! https://southwestpca.org/leadership-institute/