SWPACA24 Deadline Approaching!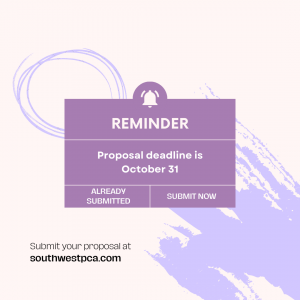 A friendly reminder that the deadline to submit to SWPACA24 is this Tuesday, October 31!
To get started, take a look at our full list of Subject Areas for where your research ideas will fit best. Then submit your proposal to our Conference Management System (create an account, if you don't have one already!).
Already submitted? You should hear back within two weeks.
Reach out to us at support@southwestpca.org with any questions!