#FeatureFriday: Meet the Area Chair! Darrell Hamlin, Spy Culture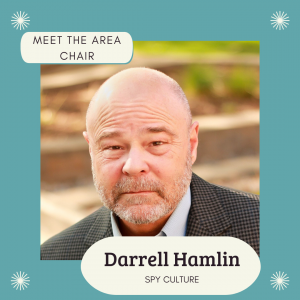 👨 Darrell Hamlin, PhD (he/him/his)
📍 Hays, Kansas
💼 Associate Professor of Political Science, Fort Hays State University
❓ Explain your history and involvement with SWPACA.
My first SWPACA conference was in 2013. I have participated in various ways at every conference since then. Papers, area organizing (Crime & Culture, Politics, Spy Culture), roundtables, recruiting guest speakers, etc. Currently I chair the sections for Politics and Spy Culture. I love seeing the friends I've made every year, working with them to create conditions for the best possible conference experience. I also keep coming back because the  executive Leadership Team has remained so stable, even as the conference and events evolve to be more relevant, scholarly, and fun.
❓ How did you become interested in Spy Culture?
I am trained as a political scientist, and what started off as a "guilty pleasure" of spy novels evolved into a focus for professional expression, a way to dig into something I love but also present papers and publish around. At the core of my interest is the paradox that democratic life requires a certain level of transparency, which is at odds with the covert, deceptive operations of the espionage world that presumably is there to protect the interests of democracy. I could not find a section at PCA explicitly dedicated to spy things, nor could I find any regional conference that has an active area on the subject. "Spy Culture" is intended to be a broad enough area to cover where tradecraft, operations, and espionage history intersect with lore and the representation of the spy world in art and popular culture.
❓ What do you hope folks will gain from participating in Spy Culture in the future?
I hope participants will find their own way into the creativity of scholarly expression around this thing that is supposed to be such a big secret! I also hope participants will help us build the section to a strength that showcases the exclusive dedication SWPACA has to it as an area.
❓ What is your current pop culture passion/obsession?
Memoirs by successful fiction writers who explore the connections between the deep background of their own childhoods and their commitment to a particular area of genre and the arts. In December, Lexington Books (part of Rowman & Littlefield) will publish a volume of essays I co-edited. Dark Places: Crime and Politics in the Personal Noir of James Ellroy.
📢 Join Darrell and the Spy Culture folks at SWPACA24! Proposals now being accepted through 11/14 at https://southwestpca.org/conference/call-for-papers/