#FeatureFriday: Meet the Area Chair! Lisa Wagner, Linguistics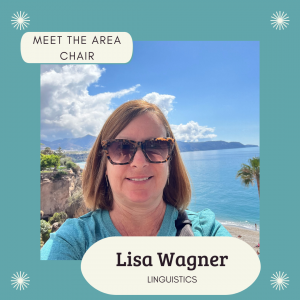 👩 Lisa Wagner (She/Her)
🏡 Hometown: Pittsburgh, PA
📍 Current Residence: Louisville, KY
💼 Associate Professor of Spanish and Linguistics and Director of Undergraduate Program in Spanish, University of Louisville
❓ Explain your history and involvement with SWPACA.
I began presenting an annual paper in "Gender" at SWPACA as an Assistant Professor in the early 2000s. I After receiving tenure in 2006, I turned my research focus to applied linguistics and began presenting annually in "Linguistics". In 2017 (?) I became the Area Chair for Linguistics. I love the interdisciplinary nature of this conference and the kindness of everyone involved. It is a welcoming space to get constructive feedback on one's latest research and creative activity!
❓ How did you become interested in Linguistics?
I come from a teaching background earning two teaching certificates with my Spanish BA degree: 7-12 Iowa and K-12 Pennsylvania. I applied to Graduate School as an afterthought but decided to pursue my MA in Latin American Literature at the University of Pittsburgh. Once there, I look my first course in linguistics and was hooked! I switched my area of study for the MA to Hispanic Linguistics my second semester at Pitt. After grading in Dec. of 1993, I took ½ a year off, teaching Spanish as a PTL at Pitt and working at a Real Estate Office before beginning my Ph.D. in Spanish Linguistics at The Ohio State University. I received my Ph.D. from OSU in 1999 in 1) Spanish sociopragmatics and 2) Spanish synchronic syntax, with a concentration in Synchronic Spanish Phonology and Phonetics.
❓ What do you hope folks will gain from participating in  Linguistics in the future?
I hope future participants will recognize that "Linguistics" is a venue for both theoretical and applied research: it is a positive space where we share information on linguistic varieties and cultivate new lines of inquiry. Want to expand your current work in the areas of advertising, literary studies, or pedagogy, and perhaps include a section or chapter on language use? Let the collective brainpower of linguists help you to develop a new slant to your current research project!
❓ What is your current pop culture passion/obsession?
My current pop culture obsessions are 1) travelling to location sites for movies, TV shows, and books, 2) identity markers of all types 3) sneaker culture, especially kicks designed by women athletes!
📢 Join Lisa and the Linguistics folks at SWPACA24! Proposals now being accepted through 11/14 at https://southwestpca.org/conference/call-for-papers/