New Name, New Look, New Logo, New Web Site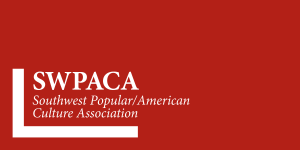 The Southwest Popular/American Culture Association (SWPACA) is pleased to announce its 35th annual conference will be held in Albuquerque, New Mexico, February 19-22, 2014. This year marks several areas of growth for the Association:
The association name will change, effective May 2013, from the "Southwest/Texas Popular and American Culture Association" to the "Southwest Popular/American Culture Association"
The SWPACA web site has been updated and moved to its new home at www.southwestpca.org – be sure to check back regularly for news and info!
The SWPACA is pleased to announce the launch of Dialogue: The Interdisciplinary Journal of Popular Culture and Pedagogy.  Please visit www.journaldialogue.org for more information.
• The SWPACA's flagship award, the Peter C. Rollins Book Award, established a new standard in 2013, recognizing three outstanding volumes in separate areas of popular and American culture:

Traditional Film/Television Studies
Popular Culture Studies
Sequential Art/Comics and Animation Studies
It is our goal to attract a new group of authors with these new subject categories in honoring the legacy of Peter C. Rollins the founder of our organization.