Southwest PCA is now on Flickr!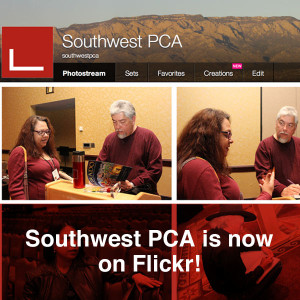 We are pleased to announce that we now have a Flickr account to share photos from the conference! Take a moment to head over to http://www.flickr.com/photos/southwestpca/ to view our photos.
We will post photos from the conference, the keynotes and others!
As of now, we have two sets:
Keynote by Dr. Spencer Herrera and New Mexico Poet Laureate Levi Romero; this set contains photos from Thursday's Keynote
Rollins Award and Graduate Awards; this set contains photos of our Rollins Keynote speaker, Alisa Perren, as well as award announcers and all of our graduate  award winners.
We hope you like the photos. Keep your eye on the Flickr page as we grow our photographic presence and keep a record of our meetings!